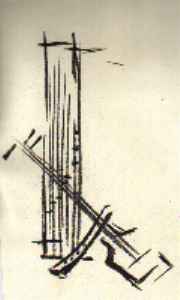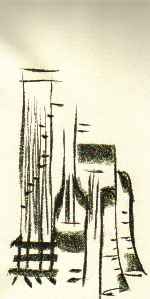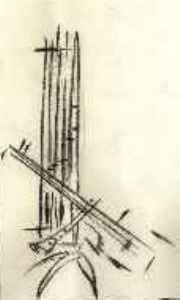 Chikudo-(Bamboo Way)
This bamboo sound color
So imperfect,
Is complete:
All that I am right now.
The sum of the me-experience.
This halting sound shape
Weak, strong and illogical,
The dusty mirror of myself/Self...
The Sum Now Point...
Changing
Only in the blowing...
So human, trembling, royal energy sound
Resonating.
Anacrusis
I can not grasp It.
It is too big;
I am too small.
There is only one answer:
To be grasped by It...
To dance with It.
Anacrusis II
"I" can not grasp "It" nor be grasped by "It"....
No "I"
No "It"
Only seeing, hearing, touching
The "I" mask functions, grasps, dances, plays, suffers, fears, enjoys...
Seeing through the mask, inventing
Only shadowplay moving
Silent Stillness...
Only this
Only
Untitled
Sound shapes create space and time. Silent shapes make emptiness.
Interwoven shapes resonate:
Is/Is Not
Vibrate:
Not Be/Be...
Rhythmic song.
The Only Journey
In the middle of the journey
Having come no distance...
Going no distance...
Yet going, dizzy with the going, going...
Searching, searching...
Only sore feet here searching frantically
In the middle point
Then falling through...
Yes!
Pequeño
Shakuhachito mío,
Hijito, el más pequeñito de mis amores.
Corazoncito mío,
Tu sonido me conmueve las entrañas,
Me estremece.
Sos mi vida
Y también serás mi muerte,
Hijita mía,
Hassuncita mía.